Sennheiser G3 vs the AirLinc App
By Mark Thorn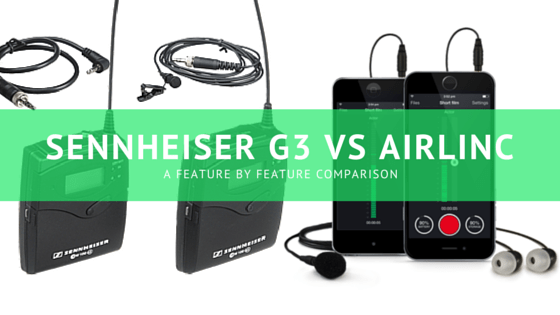 We all know and love the Sennheiser G3, and for good reason! It's been a necessary and reliable piece of kit for videographers around the globe for many years. However, over the years the old eventually gives way to the new. Today we're going to do a feature by feature comparison to explain a few of the core differences between the good old RF based G3 that we all know and our new WiFi based smartphone App, AirLinc.
A bit of a recap on the Sennheiser G3. It was first brought out in 1999 as part of Sennheiser's 'Evolution' series of wireless microphones. the G3 body pack wireless microphone has been standard issue for many video production crews and on-stage presenters since that time. The G3 retails for around USD $629.
SIZE
Its small size (82 x 64 x 24 mm) (3.2 x 2.5 x 0.9 inches) makes the G3 body pack ideal for concealment in a pocket or under clothing, giving presenters and talent ease of movement without being constricted by cables that may also appear in shot.
By comparison, AirLinc is an app that uses the WiFi capabilities of Apple iPhones to emulate the radio frequency (RF) wireless capabilities of the G3. It's similar in size to the G3 body pack when using an iPhone 5s but the iPhone is much thinner at 7.6 mm (0.3 inch) making it easier to conceal under clothing or in the pocket of skinny jeans. AirLinc also works on the iPod touch, which is thinner still at 6.1 mm (0.24 inch).

PRICE
The main point of difference between AirLinc and the G3 is in price. Assuming you already own two iPhones (or own one and can access another) you would pay USD $31.99 (AUS $49.99) for the app. You only need to purchase the app for one phone as the second phone can use the free version. The only other expense necessary in order to achieve a fair comparison with the G3 is a professional lavalier microphone capable of plugging directly into the TRSS microphone connector on the iPhone. We used the RODE SmartLav, which is readily available for around $55 from eBay, bringing the total comparative price to around $87.
With such a huge price difference, you would expect AirLinc not to be designed for professional use. And in some aspects that's true since it uses iPhones that were not specifically designed for audio transmission. But mostly, AirLinc has been designed to satisfy professionals who require very high audio quality.
LOCAL RECORDING VS LIVE INPUT
The main difference is how you would use the two devices. The Sennheiser G3 is designed to be plugged directly into the camera via a 'mic in' connector, whereas the AirLinc system is designed to monitor and change the record level in real-time and record the audio locally on the miked-up device. The expectation is that the audio will later be synced with the video in post. (Although AirLinc has plans for a low latency version that will enable direct to camera input).
The advantage of recording directly onto the miked-up iPhone is that you will always have a drop-out free, high quality copy of the audio.
FREQUENCY
Another point of comparison where AirLinc has an advantage over the G3 is multi-device recording. Currently using more than one G3 in close proximity requires quite complicated tuning to avoid intermodulation interference between channels (for example: http://www.bhphotovideo.com/explora/audio/tips-solutions/purchasing-and-setting-multiple-sennheiser-g3-wireless-microphone-systems).
On the other hand, AirLinc has no problem with intermodulation as it operates on WiFi and records locally so you could run 10 or 20 AirLinc setups in close proximity without any disturbance (although you would need to crowd-source a lot of iPhones / iPods and possibly a WiFi router and plug each channel into a mixer for monitoring). On that point, though, AirLinc intends to bring out a multi-channel version before the end of 2016, which will make monitoring your levels in a multi-channel session a whole lot easier.
RANGE
Distance tests with both systems reveal the G3's operating distance with clear line of sight and low RF or WiFi traffic is 137 m (150 yards) as opposed to AirLinc's 300 m (328 yards).
Although the G3 has been a trusty and worthy wireless microphone system for 16 years, changes in the frequency allocation for wireless microphones in Australia in 2015 and the US between 2016 and 2019 will make life difficult for users of RF-based wireless microphones. By comparison, AirLinc uses the 2.4Ghz and 5.0Ghz WiFi (when used with iPhone 6) frequencies that are not likely to be changed in the foreseeable future and are standard wherever you go worldwide.
What are your thoughts on using a smartphone app as a replacement for the trusty G3? Let's chat using the comments section below!
Tags: 2.4Ghz, 5.0Ghz, AirLinc, Bodypack, Frequency, G3, iPad, iPhone, iPod, Mic, microphone, Radio, Recording, RF, Sennheiser, smartphone wireless mic, systems, Wireless