Sennheiser MKE 2 Digital Review
By Luke Thorn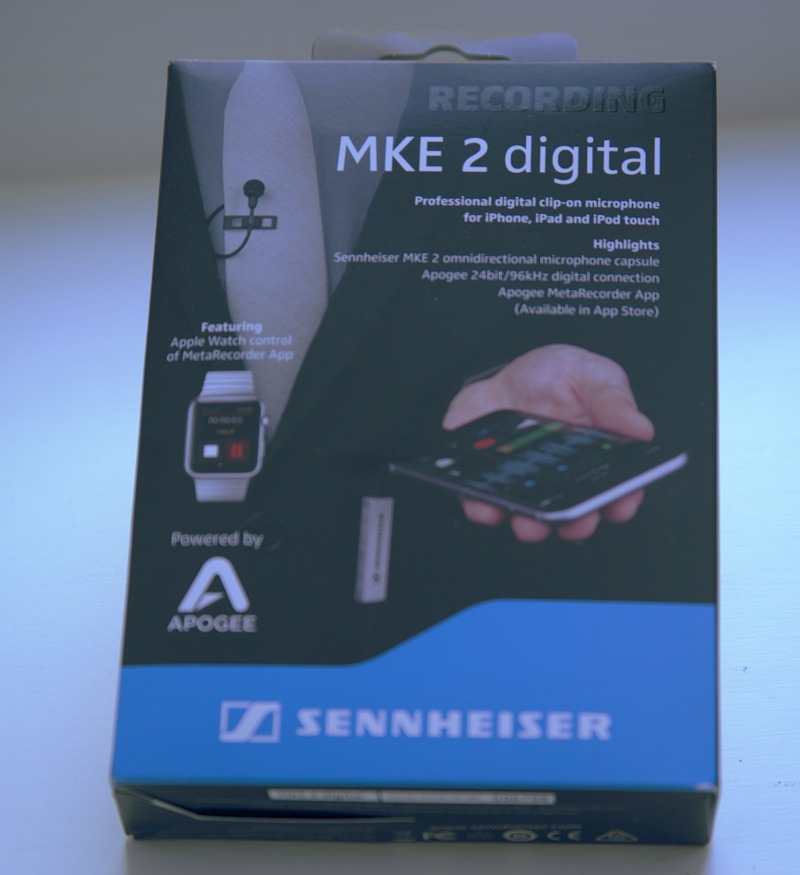 Initial thoughts on the MKE 2 Digital
The Sennheiser MKE 2 Digital Lavalier microphone is the premium version of the $200 entry level Sennheiser ClipMic lavalier microphone. It has some enhancements over the $200 version, including a different mic capsule (an MKE 2 capsule whereas the ClipMic uses an ME 2 capsule), higher quality cabling and a metal case for the A/D convertor (as opposed to plastic for the ClipMic). For these enhancements, Sennheiser charges an extra $300. Both microphones use the iPhone lightning connector as an input source to enable iPhone-based audio recording using iOS apps. AirLinc is the leading app in this field, offering real-time monitoring on the master iPhone and real-time recording on the slave iPhone. In an AirLinc session, the MKE 2 Digital microphone would be used to replace the in-built iPhone microphone to give a professional, close-up sound.
Before we get into it the review it's good to mention:
This is not a paid review
We would like to thank the team at Sennheiser Australia for supplying the Sennheiser MKE 2 Digital for this review
Overview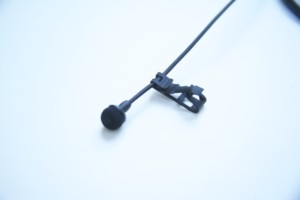 The MKE 2 Digital is a fine microphone from a long line of respected production microphones. Sennheiser is known for robust equipment that handles the everyday rough handling of a production crew and still produces great sound.
Having worked for many years as a broadcast sound recordist, I value build quality very highly, and amongst most professionals, it's the standard by which professional equipment is judged. A very close second to that is sound quality. That's because lost audio due to faulty equipment can cost you your job, but slightly different audio quality will not (as long as it's not in the same shot). If you can get both reliability and great audio quality in the same device, then it will, over time, become a standard. Sennheiser's Evolution G3 wireless mic and MKE 406 and MKE 816 shotgun microphones have earned their place as standard devices in most broadcast professional audio kits.
On the other hand, RODE is a relative newcomer to the professional audio field. RODE has earned it's reputation with a different segment of customers - namely semi-pro and prosumer users. These users are shooting with DSLR's instead of Broadcast ENG cameras and they represent a far wider opportunity than the broadcast users who form Sennheiser's key market. So it makes sense for Sennheiser to take notice of this new market and develop 'cross over' equipment such as the ClipMic Digital and MKE 2 Digital.
But will the MKE 2 Digital find a place in the hearts of users in this this new market? Let's find out by comparing build quality, price and flexibility of use with these two quality devices.
MKE 2 Digital Build Quality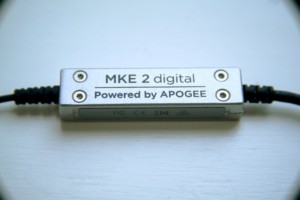 On opening the MKE 2 Digital packaging, you're presented with a lavalier that looks like most others - except for a couple of obvious differences. There's a lightning connector on the connection end (as opposed to a lock-down 3.5mm TRS connector when the MKE 2 capsule is used with a G3) and a little way up the cable there's a silver box. This is the A/D convertor and it forms what would be called the 'secret sauce' of this microphone.
From a build quality standpoint you could say that a metal box is fairly robust. But look at the cable going into the metal box and think for a moment about the stresses that will be on this little piece of flexible cable as it enters an inflexible metal box. Even though the cable is kevlar reinforced, the connections on either end will inevitably break down after years of winding, unwinding, and being tugged on, and if it does eventually weaken, it would be very difficult, if not impossible, to repair. Since cables are the first point of failure for most equipment, I would say this represents a red flag for me.
On the other hand, the RODE Lavalier mic also comes with a Kevlar reinforced cable but there is only one connection point where the flexible cable meets an inflexible moulding. That's where the cable meets the TRRS connector (the plug that goes into the headphone jack of the iPhone). Just a word about RODE's Micon connectors and cable. This is seriously a huge leap forward for audio professionals - and yet, purists will probably look down their noses at these connectors and cables.
I must admit I was a little sceptical when we bought our first RODE Lavalier mic and noted that the only way to connect them to external equipment was to purchase the Micon cable. I noted that there was a small gold-plated thread on one end of the cable and the microphone capsule on the other (I since learned that the microphone capsule itself is screwed onto the cable with the same gold-plated thread). The idea behind this cable is that you can screw a variety of connectors onto the connector end of the cable so the RODE Lavalier can be used in many different environments. For instance, you can screw a TRRS connector onto the connector end when connecting into an iPhone, or you can screw an XLR connector on if you're going into a Zoom H6. You can even use the RODE Lavalier to connect into a variety of wireless mic transmitters that have, in the past, forced users to use their own microphone capsules because they have a non-standard connector. Is the Micon cable robust? Well we've had ours for over 2 years now and to date have not had any problems - but recently one of the shrink-fitted sleeves has come away, causing our cameraman to change microphones on a shoot due to intermittent audio coming from the microphone.
Usability
Here's where the rubber hits the road for many potential purchasers of these products, and where we can see some clear differentiation between the two.
RODE have let their guard down by not providing a robust cable conversion solution for the iPhone 7. Since Apple dropped the 3.5mm TRRS connector from the iPhone 7, you would now need to purchase a 3.5mm TRRS to lightning connector to connect your RODE Lavalier into this phone. Apple produce one for around $12.99 but would you really trust your reputation to a plastic connector with so many possible points of failure? For me that would be a big red flag.
On the other hand, Sennheiser have a fairly robust (albeit with some previously mentioned points of possible cable failure) solution for iPhone 7 users, with the fairly robust lightning connector going straight into this phone.
Where the Sennheiser really comes into its own from a usability perspective is when you are using it into an iPhone 6 or 5s for solo recording. The fact that these phones have both a lightning connector and a TRRS connector means you can monitor your recording through headphones as you speak into the microphone.
For everything other than the iPhone 7, the RODE Lavalier is a clear winner from a usability perspective. The Micon cable is key to this because the RODE is not restricted to just being a smartphone microphone. In fact, you can even get a lock-down 3.5mm TRS connector for the Micon cable so you can plug directly into the Sennheiser Evolution G3 wireless transmitter if you so desire.
Price
Professional users have become accustomed to paying a premium price for equipment that will almost never let them down. That's because their reputations can rest on the reliability of their equipment and therefore equipment purchases require careful consideration. Sennheiser equipment has, for many years, fitted into the niche of professional broadcasters who tend to only trust known brands in their field. Therefore, it seems appropriate that Sennheiser's top of the line digital mic should be priced to the same level as it's other high-end equipment. But is this extra expense warranted in the DSLR market? At USD$499 for the MKE 2 Digital, you could almost purchase two RODE lavalier mic's. Is the Sennheiser worth twice the RODE? I tend to think the pricing is a little on the high side - especially when you consider the little brother to the MKE 2 Digital - the ClipMic - is priced competitively at $199 and you would be challenged to hear any difference. However, the ClipMic build quality is not nearly as good as the MKE 2 Digital - or for that matter - the RODE Lavalier.
It seems the two companies are offering two different products for two different markets:
The MKE 2 Digital and the RODE Lavalier mic's are aimed at the professional DSLR user/journalist and
The ClipMic and RODE SmartLav+ ($69) are aimed at the non-professional user.

Sennheiser MKE 2 Digital Sound Quality + Alternative Comparisons
There are many blogs that compare the audio quality of the Sennheiser MKE 2 Digital to other microphones and really the difference is very subjective. An interview recorded with the RODE Lavalier mic and an interview recorded with the Sennheiser MKE 2 Digital will sound pretty much the same - unless you mix the two microphones.
Subjective listening shows the Sennheiser has a bit more sibilance than the RODE and you can see that by looking at the frequency chart supplied with the MKE - there's a decided lift at around 10 Khz, which accounts for that nice crisp top end. The main difference I found between the two microphones was the output levels - with the Sennheiser being considerably more sensitive than the RODE. I don't think this will be a deal-breaker but it's worth noting.