Why you need Multichannel Wireless Audio - Part 2
By Mark Thorn
Now that I've introduced why you might need wireless audio, it's time to look at the alternatives for recording multichannel audio.
What equipment can you use to record multichannel audio?
First, we'll have a look at a reasonably affordable alternative - a wired multichannel audio recording system for location sound recording - then we'll check out a few solutions for recording multichannel using FM-based wireless microphones such as the Sennheiser G3 (compared in this blog), and the Zaxcom QRX100.
Throughout the article, I'll draw some comparisons between the featured solutions and our AirLinc multichannel wireless system.
Now that I've introduced why you might need a wireless audio recorder, it's time to look at a reasonably affordable alternative - a wired audio recording system for location sound recording.
The wired alternative - Zoom H6
Out of the strong range of portable digital audio recorders on the market, we've chosen the Zoom H6 as a comparison against AirLinc, partly because:
It compares well against others on the market (such as the Tascam DR60)
It's the nearest priced alternative to AirLinc multichannel
We own one and know it well.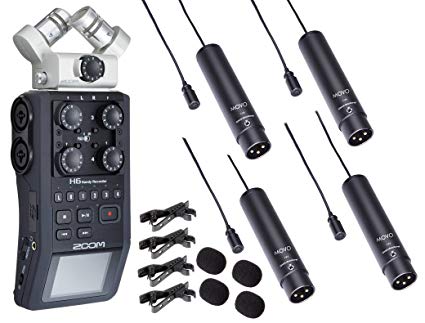 The H6 is great for capturing good quality multichannel audio on location. With 4 individually mixable channels, Canon XLR and 6.3mm jack inputs, built-in X/Y stereo microphone and battery power for portability – it's been a reliable solution for multichannel location audio capture since its inception.
So why would anyone buy AirLinc over an H6? Well to start out, AirLinc is a wireless system, whereas the Zoom is basically a cable-based system. So when you need the flexibility to record a multi-person interview or a stand-up and get quality audio without cables in shot, then AirLinc is the obvious choice.
Then there's the matter of price. An H6 will set you back around $US350, whereas, assuming you already have a few compatible iPhones (several as the transmitters and one as the receiver) and some professional Lavalier mic's, AirLinc will only set you back $15.99 US for a year's license.
Recording quality is basically the same, with both systems recording in WAV format at 24-bit integer and 48 kHz, but the Zoom does have a setting for recording at 96 kHz. AirLinc can also accept an X/Y microphone (such as the Rode iX/Y) via the iPhone lightning connector. Both systems have real-time monitoring (Zoom's is cabled and AirLinc's is wireless).
For getting files off the device, AirLinc has a bunch of convenient options including AirDrop, email, iCloud, GoogleDrive, Dropbox and even iMovie, whereas Zoom is restricted to a wired USB connection.
What about Multichannel wireless?
Considering the price difference between AirLinc and a single channel wireless system (see our comparison between AirLinc and the Sennheiser G3), AirLinc stacks up very well. But you'll find the options narrow considerably (and the price goes up sharply) when you want to record and monitor multiple channels of wireless.
Being able to monitor and mix more than one channel at a time has always been a great feature of the Zoom because you'll often encounter situations where there are multiple persons needing to be miked.
Invariably when more than one person is going to speak (multi-person interviews, more than one actor speaking in a scene) the complexity and cost of recording quality audio is going to go up. Why? Because, as I explained in Part 1 of this blog, you'll need a boom and a shotgun mic if your actors are moving and you don't want to see the mic in shot. And if you have a boom, then you'll need a boom-swinger. And that all costs money.
Alternatively, if you're shooting a seated interview with more than one person in shot, and you don't want to see cables in the wide-shot, you'll need to hide your Lav mic cables by running them around the back of chairs or down trouser legs.
So if you don't want cables in shot and restricted movement, what about 4 channels of wireless? Now you're talking really big dollars if you want a professional setup, but surprisingly, none of the big manufacturers such as Shure and Sennheiser actually make a dedicated multichannel system for recording location audio. So if price (and portability) is not a consideration, you might have to cobble something together by purchasing 4 sennheiser G3's at around $3,600. But added to the high price, you'll end up with a very unwieldy solution. Try wrangling 4 receivers at one time – all cabled into your Zoom!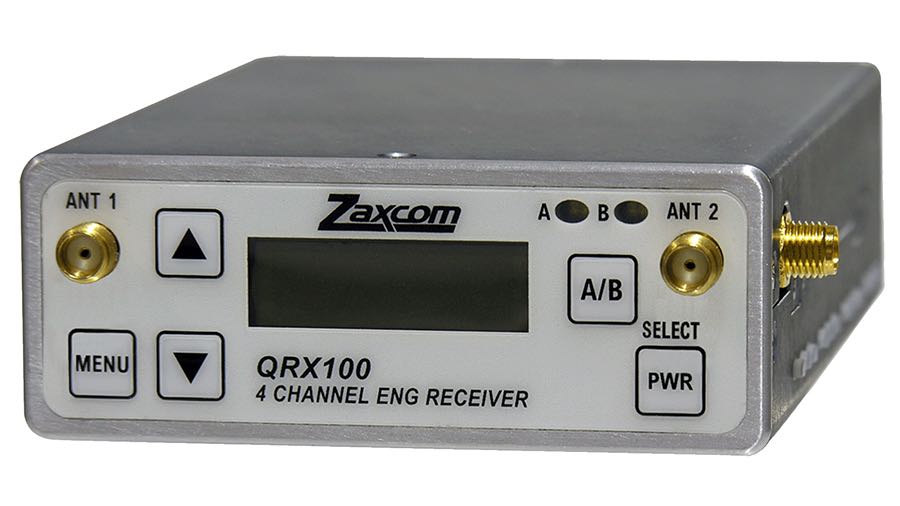 But, as I said before, if you want to go all-out, you can always purchase a ZaxCom multichannel wireless system such as the ZaxCom QRX 100 for around USD$7,500, but, other than having to shell out a lot of cash, you will also need to ensure you're operating within the allocated wireless microphone spectrum for the country you're working in (or travelling to). This can be very restrictive now that the US is shutting down spectrum used by wireless microphones.
By comparison, AirLinc works on the 2.4Ghz (5Ghz for iPhone 6 and above) band which is usable in every country of the globe and only costs around USD$15.99 (plus the purchase price of some good lav mic's). And guess what - you only have to purchase one licensed copy (for your master phone) because all the copies (for the mic'd-up phones) are free.
Introducing AirLinc multichannel wireless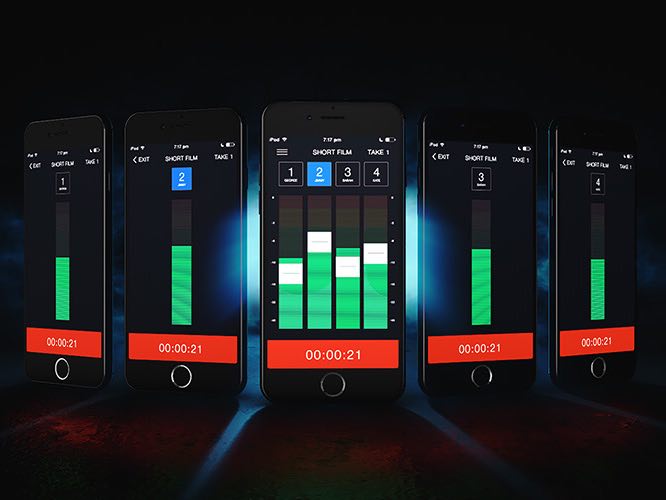 With the release of AirLinc multichannel, the playing field has changed completely. AirLinc now supports up to 6 channels (depends on hardware - can support even more) of wireless audio with record, monitoring and level control all on one device.
Our users have been asking for a multichannel solution since release of our AirLinc single channel system in 2014 and we've always had it in our product roadmap. It's taken a while because multi channel wireless audio on iPhones is no mean feat. But after over 3 years of development and testing, our multichannel system is now released and we think it's a game-changer.
With AirLinc multichannel, you have many of the capabilities of a Zoom H6 but with wireless mixing and monitoring on the receiver device, plus individual safety back-up recording on each transmitter device. And in addition, you'll have all the cloud backup options of our single-channel product plus syncing back to the master at the end of the shoot (so you can give back your friends' phones).
Wireless location audio is set to take a big step forward with the release of AirLinc multichannel. For recording multi-person interviews and dramas, forget 4 Sennheiser G3's hanging off a Zoom H6. Now you can walk around with one iOS device (iPhone, iPad or iPod touch) monitoring and mixing up to 6 individual mic'd-up iOS devices.
AirLinc multichannel is now available for download from the Apple App Store We're also posting updates and release information on our website, so be sure to register on our home page and we'll keep you up to date. If you have any feedback, we'd love to hear your thoughts in a comment below!